I love swimming laps, but it's a little monotonous. I as yet don't have a way to play music while I swim (working on it), so instead I think about the six wives of King Henry VIII, one per lap. Here's a quick preview of their 6 fates: Divorced, Beheaded, Died, Divorced, Beheaded, Survived.
Lap 1: Katherine of Aragon
During the first lap I think about Katherine of Aragon, daughter of Spain's Ferdinand and Isabelle. She was initially married to Henry's older brother who died. Since marrying your brother's widow was considered the polite thing to do, that's what Henry did.
Katherine had several miscarriages, and two sons who only lived a few months. The only child to survive was their daughter Mary. (We'll return to her in the next post—-you'll want to mix up a Bloody Mary for that one.)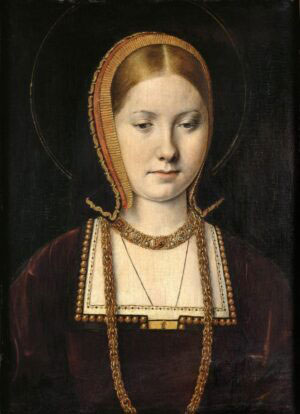 Now middle-aged, Henry began to fuss about having a son just as Anne Boleyn began to flirt with him. She had a sparkle in her eye and ambition in her heart. She refused to let him go past second base however, until he 'put a ring on it.'
But he was still married to Katherine! He asked the pope to annul the marriage, saying he should never have married his brother's wife. Pope said "No," so the king, crazy for Anne, declared England was no longer Catholic. He started the Protestant Church of England and declared himself head. He quickly divorced Katherine, which upset all of England, and, not surprisingly, Katherine herself.
Lap Two: Anne Boleyn
Second lap? That feisty Anne Boleyn quickly married Henry and allowed him to go all the way. The next year she gave birth to Elizabeth, and then suffered a miscarriage the following year. Unfortunately, her ambition pissed off lots of Henry's advisors and they hated her. So they began whispering stories in Henry's ear that she was cheating on him. They 'proved' this by grabbing some men and putting them on the rack, thus getting lots of 'confessions.' Anne was too smart to cheat, so I doubt she did, but Henry had her arrested for treason, and beheaded.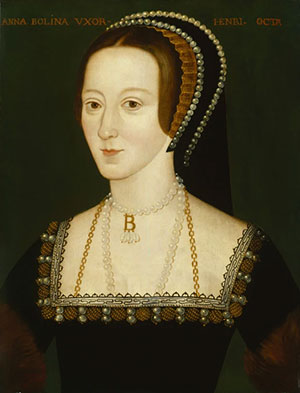 Lap 3: Jane Seymour
Third wife was Jane Seymour, and Henry liked her. She gave birth to Edward (a son who survived!) but sadly, some idiot 'doctor' likely infected her during the birth and she died 10 days later.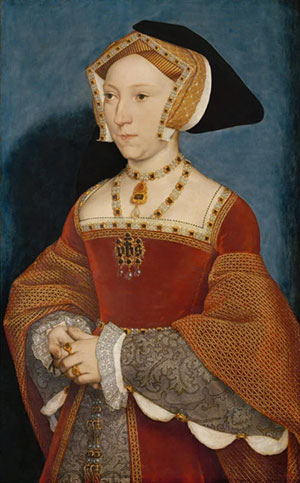 Lap 4: Anne of Cleeves
Henry's advisors thought it was time to strengthen their foreign alliances, so suggested Anne of Cleeves, from Düsseldorf. He wanted to know what she looked like, so sent the court painter to bring back an image. Henry decided she looked okay, so agreed to the marriage. Turns out he didn't like her, and claimed to be unable to actually consummate the marriage. A few months later his advisors approached Anne and offered her a nice castle in the country in exchange for a divorce. She agreed, and off she went to live a lovely life without any fear of being beheaded.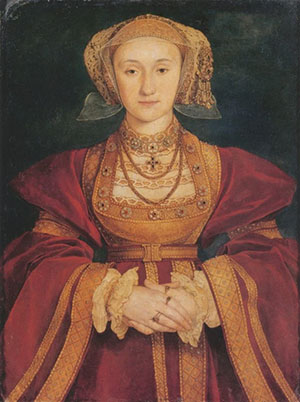 Lap 5: Katherine Howard
By now, Henry was fifty and quite overweight, with an oozing ulcer on his leg that never healed, making intimacy a bit…ah…unpleasant. Katherine did her queenly duty, but was only 17, so quickly found a court cutie to hook up with. Unlike Anne Boleyn, Katherine was not smart enough to control herself, and got caught. Idiot. What did she expect would happen? Off with her head.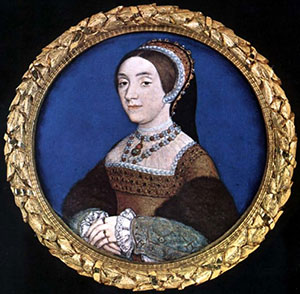 Lap 6: Katherine Parr
Katherine Parr was about to wed her love, Thomas Seymour, when she got word that the King required her to be his queen. So she married Henry, and was a supportive and helpful spouse. She was his oldest wife at 31, so was more stable than the younger wives. When Henry was off fighting a war in France, she ran the country. She brought Henry's three children, Mary, Elizabeth, and Edward to live with them as a family—they'd all grown up living in their own castle. She nursed him through his illnesses, including his last one. When he died, she dashed back home and married Thomas Seymour.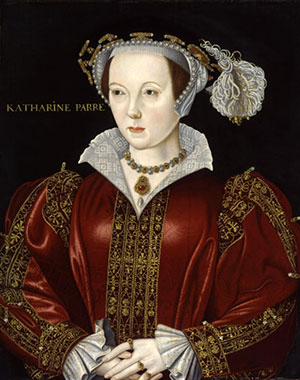 After six laps, I start over again with Katherine of Aragon.
So weird.