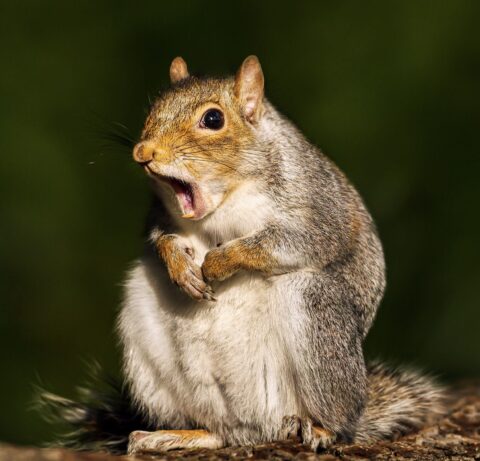 Squirrel Lunchable ™
We didn't have oak trees on our farm, so when we moved to Red Wing we were unprepared for the learning experience that comes from living under or near five massive, aged, oak trees. It turns out that 1) Squirrels live in oak trees, and 2) Squirrels fall out of oak trees all the time.
The first time we saw this happen, Melissa heard a great crack and bang as a branch broke off, plummeted to our deck and bounced down the deck stairs. A squirrel, stunned to have ridden the branch all the way down, ended up sprawled out at the base of the stairs. Melissa rushed toward it, thinking it might be injured, but when the squirrel saw Scary Human approaching, it zipped past her and ran back up the tree that had just tried to kill it.
Another day I was sitting in our sunroom, staring out the window at nothing, as writers often do, when from 25 ft above, a squirrel fell out of the tree and landed in the street right outside my window. "What?" I leapt to my feet. Did that squirrel just bounce? How had it survived such a fall? It sat there for a minute, contemplating its brush with death, then ran back up the tree that had just tried to kill it.
One day I was coming home from a walk with our 100-pound Lucy and we stopped to admire the neighbor's rock garden at the base of an oak tree. Two seconds later, a squirrel fell from the tree and landed right in front of us. What are the chances? We stared at each other until the squirrel realized it was the perfect Lunchable ™ for a 100-pound dog about the same time that Lucy realized a perfect Lunchable ™ had just landed three feet from her jaws. There was much lunging and scrambling, but the lucky squirrel managed to run back up the tree that had just tried to kill it.
Living in the city, I know I should worry about crime and other dangers, but instead I worry that one day a squirrel will land on my head. It could happen.