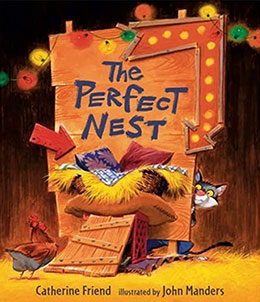 illustrated by John Manders
Jack the cat is building the perfect nest. It's bound to attract the perfect chicken, who will lay the perfect egg, which will make the perfect omelet. And sure enough, a chicken shows up ("¡Caramba!") but so do a duck ("Sacre bleu!") and a goose ("Great balls of fire!"). Feathers get ruffled—and Jack gets much more than breakfast—in a funny tale rich in details with a sweet final twist.
Pennsylvania Keystone to Reading Book Award, 2009
Minnesota Book Award finalist
Norfolk (UK) Children's Book Award finalist
state reading program finalist in Nevada, Arizona, California, and New Hampshire
Two things happened on our farm that gave me the idea for The Perfect Nest. The first thing? One day I heard some banging behind a feed bin in the barn, and went to investigate. It was dark behind the bin, and I saw what looked like the head of a chicken and the body of a duck. I looked again the next day and saw what now looked like the head of a duck and the body of a chicken! Turns out a duck and a chicken had both laid an egg in this nest, and each refused to leave. I couldn't get a photo because the nest was too dark, but a few years later I found two hens who insisted on sitting on the same nest. Pumpkin doesn't eat the duckling
The second thing? We have two barn cats, Oliver and Pumpkin, and just like any cat living outside, they will chase, kill, and eat small animals and birds. It's what cats do. But when they came to live with us, we taught them both that they could not hurt the baby chicks and ducklings on our farm. They learned very quickly, and even when they are face to face with a little duckling, they don't do a thing.
So I took those two separate, unrelated events, put them into the Story-O-Matic in my office, and out popped The Perfect Nest. I hope you enjoy it!
"Jack the cat constructs the perfect nest to appeal to a chicken, one who, he anticipates, will lay an egg he can make into a delicious omelet. The luxurious nest he provides, though, attracts not just a Spanish-speaking chicken ("¡Caramba!") but also a French-speaking duck ("Sacré bleu!") and then an all-American goose ("Great balls of fire!"). To Jack's delight, each bird lays an egg—but to his dismay, all three refuse to budge from the nest. Days pass, and by the time Jack finally hits on a way to move the birds, the eggs have hatched, and Jack becomes an unwilling mamá/maman/ma. John Manders's large, exuberant gouache paintings have exactly the right cartoony style, with everything just a little cheesier and larger than life. Funny details abound: Jack's chicken-attracting nest is padded with pillows, framed by Christmas lights, and has a welcome mat leading up to it. With its big pages and energetic telling, this will make a great story-time book." (The Horn Book)
"This brightly colored picture book for young children has a charming narrative rhythm, a happy ending and that indefinable quality that makes it stand up to many return visits. Here a dastardly, yellow-eyed farm cat named Jack constructs a fabulous nest in order to lure passing fowl to lay their eggs in it, eggs that Jack plans to turn into a fabulous omelet. Alas, he is too successful: The nest is first occupied by three squabbling birds, then, briefly, by three warm eggs, and then, to the cat's dismay, by three damp baby chicks. "Hola, mama!" cries the first, looking at Jack. "Sacre bleu! Bonjour, Maman," cheeps the second. And the third—to the glee of listeners ages 4-7—says: "Great balls of fire! Howdy, Ma." This being a bedtime story, it ends with Jack curled protectively around the three heavily accented babies who have adopted him, all fast asleep in the perfect nest." (The Wall Street Journal)
"Jack the cat is building the perfect nest, bound to attract the perfect chicken that will lay the perfect egg to make the perfect omelet. But Jack's plan hatches more than he expected. First a chicken, then a duck, then a goose, claims the nest, calls it perfect and refuses to leave. Cries of "FIRE!" "FLOOD!" and "WOLF" don't budge their ruffled feathers, until Jack hints the next farm over has an even better nest. Fowl free, he thinks; Jack's mouth waters in anticipation of an egg breakfast, lunch and dinner. But just as he reaches for the eggs, they hatch and immediately imprint on Jack as their father. To escape their peeping demands, he tries to hide, but the three fuzzy chicks find him and drag him back to the nest for warmth and sleep. Henpecked into a new paternal responsibility, Jack curls up with the chicks and realizes his nest is perfect. The gouache illustrations cluck with humor and details that add giggles: the face-on double spread of Jack in his bib overalls with whisk in one hand and spatula in the other; the wolf scene in which Jack wears a red riding hood; and Jack's egg-yolk eyes. Perfect fine-feathered fun." (Kirkus Reviews)
"This highly comical yet heartwarming tale begins simply enough. Jack, a hungry farm cat, builds a perfect nest to attract the perfect chicken to lay a perfect egg for a delicious omelet. Everything is going even better than planned when he lures a chicken, a duck, and a goose, and each one lays a yummy egg. Unfortunately, Jack cannot convince any of them to leave the nest though he tries with cries of "Flood!" "Fire!" and "Wolf!" Finally he appeals to their greedy nature by telling of the better and empty nest at the farm down the road. They take off immediately, but before Jack can enjoy the eggs left behind, they hatch, and, to his horror, the chicks target him as mom. He can't possibly eat them. In the end, as he snuggles with the tired babies, he realizes how perfect his nest really is. This amusing tale gives each of the nesters a different nationality (French, American, Spanish) complete with accent. Manders's gouache illustrations are a perfect complement to the text. The bickering poultry; the hungry, then desperate, and finally horrified cat; the demanding chicks; and the auxiliary characters are all given wonderfully detailed expressions that can be laugh-out-loud funny. Varying perspectives in the illustrations give a nice sense of movement to the tale. The text gives the mood and action of the story and the art really brings it to life." (School Library Journal)